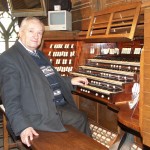 Félix Moreau was born in Aigrefeuille-sur-Maine in the heart of Nantais vineyards.
Grand-son and son organists, he was initiated to the organ from the age of 5 years, then he began his musical studies in Nantes, with Canon Marcel Courtonne, Cathedral organist who was himself a disciple Vincent d'Indy and Louis Vierne.
After classical studies, Latin, Greek, Philosophy and Theology studies, Félix Moreau continued his musical studies in Paris in 1948.
The Masters will be Marcel Dupré, André Fleury and mainly Maurice Duruflé for harmony, counterpoint, fugue, composition, interpretation and improvisation.
Titular of the Great Organ of the Cathedral of Nantes since the death of Marcel Courtonne in 1954, he was also professor of Scripture and Organ Music at the Angers National Conservatoire and for 18 years at the National School of Music of Saint Nazaire.
He is Honorary President of the Association of "Liturgical Organists" France.
As a composer, he was winner of the "Laffont Prize" in 1954. First National Prize of "Sacred Music" in 1956. He is the author of numerous vocal music pages : Masses, psalms, motets, etc … and important organ pieces : "Fancy" and "Modal Suite" in 1957, "Incarnation" in 1961, "Genesis" in 1973, "Hymnal" in 1988, the Toccata "Cry of Hope" in 1992, etc …
A moment influenced by Messiaen, the serial system and twelve-tone music, his work is nevertheless marked by the imprint of Gregorian Chant, which may be, he said, "the deepest source of his inspiration."
He transcribed for organ, the prelude to the first solo violin sonata in D minor by JS Bach.
As an organist soloist, he has given numerous recitals in France, Paris and Province, but also abroad : Germany, England, Switzerland, North America… Soloist at the ORTF, he was invited to several major festivals : Steinfeld, Markendelfield, Sakingen Germany, Lausanne, Switzerland, Renaissance Organ in Bordeaux, Marienthal, Strasbourg…
In 1971, he published "The Great Organ of the Cathedral of Nantes" and written many articles in various journals, "the organist," "Sacred Music" magazine "Organ" (No. 100). He has been invited several times to Notre Dame de Paris by Pierre Cochereau, and opened more than 100 Organs.
His repertoire has no exclusive, but it has a predilection for the French Classical, if well served by its organ of antes Cathedral, as well as the French School Symphony : César Franck, Louis Vierne, Maurice Duruflé his Master Olivier Messiaen and especially Jehan Alain he admired without reservation. Not forgetting of course the Master of Masters, Johann Sebastian Bach.
He recorded the "Three Chorales" on the Great Organ Historical Cavaillé-Coll of Luçon Cathedral, the "French Christmas" on Nantes Cathedral and a CD with Forlane editions devoted to French music of the seventeenth and eighteenth centuries as the Nantes Cathedral.