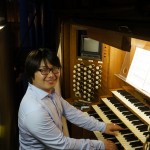 Ae-shell NAM was born in South Corea in 1988. At the age of six he takes his first piano lessons. Passionate about music, he joins the organ class at the college of art and music in Seoul (Seoul Yego) where he receives an excellent musical knowledge.
His concentrates on a special training in sacred music at the Yonsei University under the direction of Su-one PARK and Tongsoon KWAK, widening his musical repertoire to the 19th century.
In 2011, he continues his training in the organ class of Eric Lebrun (interpretation), and in the improvisation class of Pierre Pincemaille at the regional conservatory in Saint-Maur des Fossés.
He entered in Paris Conservatory(CNSMDP) at Master with Olivier Latry and Michel Bouvard in 2013. Now he continues Artist Diploma in Paris Conservatory, and Konzert-examen in Hochschule fur Musik und Theater Hamburg with Wolfgang Zerer.
He wins the 3rd Prize during the 4th edition of the Jang Choen-Kiais Competition in 2007.
At the first International Organ Competition in Lyon in 2009 he takes part in the semi-finals in interpretation.
He won the Audience prize at the International Organ Competition "Grand Prix de Chartres" in 2010, and 3rd Prize at the International Organ Competition 2013 César Franck Haarlem in the Netherlands.
In 2014, he is also a finalist at the International Organ Competition of Chartres.