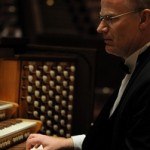 Didier Braem musical studies conducted in multiple areas : piano, organ, writing, music analysis, conducting, composition.
He worked with Yves Devernay (organist at Notre-Dame de Paris), Gaston Litaize, Jean-Claude Henry, Robert Delcroix between at the Paris Conservatoire, where he won several first prizes, shortly after being named holder of the new organ of Church of St. Martin de Roubaix (5 keyboards – 54 stops).
Attracted by the teaching, he teaches piano, writing and musical analysis. Getting to 26 CA director, he became director of CRC Wasquehal. The same year, he recorded a first set of organ music disk and displaying many of his works, acclaimed by critics disk.
In 1991, Didier Braem became head of CRD Roubaix. Developing many educational projects and a conductor of activity, it will work to revitalize this reputable school, one of the oldest in France.
Architect of the construction of the new organ in Wasquehal (G. Guillemin – 1989), he seeks to open up the image of the organ and to broaden its audience. He has given numerous concerts and recitals in major festivals in Paris (Notre Dame, Saint-Séverin), Bourges, Chartres, Lille, Monaco, Luxembourg, Leeds, Madrid …
For twenty years he worked regularly with the Orchestre National de Lille who invited him to play as a soloist (mainly 3rd symphony of Saint-Saëns) when touring in France, Belgium, Germany, Spain, Great Britain, Netherlands (inauguration of the restored organ Concertgebouw of Amsterdam) and South America (Sao Paulo, Buenos Aires, Santiago, Chile). He participated in several recordings, and also occurs with other formations (Chamber Orchestra of France, Douai Orchestra, concertos by Handel, Haydn, Escaich …).
This interpreter activity gives him the opportunity to work with great conductors (Jean-Claude Casadesus, Yehudi Menuhin, Kent Nagano, Jesus Lopez Cobos-Christoph Spering, Michael Stern …) and support of prominent artists (including Barbara Hendrix, in Fauré's Requiem at the Théâtre des Champs-Élysées in Paris).
Very involved in the arts issues and the educational field, Didier Braem today have responsibilities to the Ministry of Culture and Communication (Inspection Service and artistic creation). Speaking through multifaceted career reflects the approach of a musician keen to constantly deepen the scope of its research.