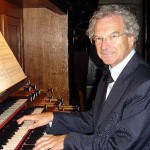 Alain Bouvet, who comes from Lower Normandy, began his music studies with Georges Trouvé, organist at the cathédral of Sées.
He entered the National Conservatory in Caen to study organ, and obtained First Prize by unanimous décision his first year The président of the jury, André Marchal, selected Alain Bouvet to study the ensemble of the repertory under him for five years.
He then began his career as a recitalist. In 1985, he made his first recording with the "Grandes Toccatas" at the Cavaillé-Coll organ in the abbey church of Saint Etienne in Caen, where he was named organist in 1990.
In 1989, a second recording devoted to César Franck received the following critique, "Bouvet's Franck, sober and mature, combines rigorous awareness with humanism" (Diapason). His last CD devoted to Louis Vierne received the following acclaim, "unfailing clearness, restraint and rigor, winning vigor crowning a splendid Carillon de Westminster" (Diapason, September 1997).
During his récent travels, he performed at the Tchaïkovskv Conservatory in Moscow, and at the University of North Texas in Dallas.