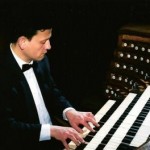 After classical studies at the National Conservatory of Music in Paris rewarded with five Price (Harmony, Counterpoint, Fugue, Organ and Organ Improvisation), Philippe BRANDEIS won the Grand Prix in 1989 and Organ Improvisation Competition of the European Beauvais (under the auspices of the National Federation of the organ friends) and the following year, became a finalist in the renowned International Organ Competition of Chartres.
After serving for five years as choir organist at the Church of the Madeleine, he was appointed after a competition in February 1994 holds the Grand Cavaillé-Coll organ of the Sacred Heart of Montmartre (Pais) and in October 1998, again after competition becomes the holder of the Grand Organ of the Saint-Louis des Invalides in Paris.
Philippe BRANDEIS holds since 1988 the organ CA and CA national interim manager (aptitude certificates issued by the Ministry of Culture for teaching or conservatory direction). He is now head of the department of instrumental disciplines at the National Superior Conservatory of Music and Dance in Paris and organ professor at Cergy-Pontoise National Region Conservatory.
Meanwhile, Philippe BRANDEIS leads an intense concert activity and occurs both in France and abroad, particularly in England, Germany, Holland, Italy, Russia, Latvia, Czech Republic … recently invited by the orchestra Paris to play the organ solos of Leos Janacek Glagolitic Mass under the direction of Pierre Boulez, it was also he who plays the organ parts of the films Jean de Florette, Cyrano de Bergerac, Tired, guilty of innocence …
Philippe BRANDEIS recorded the keyboards of the great organ of the Sacred Heart of Montmartre in Paris a French compact-disc devoted to romantic composers and organ of Grand-Bornand (Haute-Savoie) with Laurent TERZIEFF as narrator, a new work by John Giroud entitled Images for Crucis (published in March 1999).