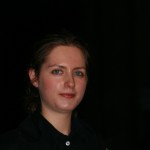 Born in October 4, 1983 in Nantes (France), Charlotte Marck began her harpsichord study when she was 6 years old and basso continuo study from 8 years old.
After studying 6 years at the National Conservatoire of music (CNR) of Strasbourg with Aline Zylberajch and Matin Gester, she continued her harpsichord study in the classes of Laure Morabito and Frédéric Michel at the CNR of Boulogne-Billancourt, where she received two first prizes at the age of 16, one prize in harpsichord and another in basso continuo. She completed her study during two years with B. Lapointe at the CNR of Caen. During her study, she also took parts in various academies of early music, such like Sablé, Urbino (Italy) and Dieppe, where she studied with Françoise Lengellé and L. Alvini (fortepiano and clavichord).
In 2003, she was a prize winner of the Musical Festival of Autumn in Paris for the Young Interpreters in Harpsichord. Then, she had many opportunities to play as a soloist in several Concertos, including J. S. Bach's fifth Brandenburg Concerto, F. Poulenc's «Concert Champêtre» and M. De Falla's Concerto, which were conducted by Martin Lebel, Sebastien Billard and François-Xavier Roth (with his orchestra : "Les Siècles"). In addition, she was a soloist in the performance of contemporary music (Michel Merlet, Roger Boutry) and in chamber music performance of H. Dutilleux's "Les Citations".
Upon receving a first prize with a distinction in harmony from the class of Isabelle Duha in Issy-les-Moulineaux, she entered the Superior National Conservatory of Music and Dance of Paris (cnsmdp) with unanimity to study harmony at the age of 16. Between 2002 and 2007, she received six first-place prizes : Harmony (with unanimity) ; Counterpoint (2002) ; Fugue and Forms (2004) ; XXth century composition (with unanimity – 2005) ; Orchestration (2007), Analysis (2009). At the age of 20, she received the Master of musical writing with very high distinction («Diplôme de Formation Supérieure en Ecriture, mention Très Bien»). Her teachers were Jean-Claude Raynaud, Jean-Baptiste Courtois, Michel Merlet, Thierry Escaich, Edith Lejet, Denis Cohen and Michaël Lévinas. In 2003, She also studied Orchestration with Guillaume Connesson.
After taking parts in two specialized sessions in the XVIIth century music (composition, counterpoint, study of treaties, improvisation, rhetoric) which was organized by the Britten School in Périgueux, she rearranged, upon the request of Gerard Geay, the orchestral parts of the Campra's Grand Dixit Dominus for the editions of the Center of Baroque Music of Versailles in 2003 (published in 2007 by the CMBV).
As a composer, she composed two pieces for piano, one piece for string quartet and three pieces for organ : "Messe sur l'Ave Maris Stella", premiered on August 15, 2005 (order of the festival "L'Orgue en Fête", de Villeneuve-sur-Yonne), and she received a grant from SACEM for this composition. In July 2006, she premiered "Poème d'une nuit d'orage" according to Lord Byron, as a part of the prestigious «Festival du Comminges», and she received the Prize of the Marcelle and Robert De Lacour's Foundation during the First International Competition for Composition. In May 2009 she premiered and received another Prize for «Deux danses pour Grand-Orgue : I. A Terpsichore, ou la Danseuse de Charme ; II. Leonard Bernstein 's memory», during the Third International Competition for Composition in Kampen – the Nederlands (2009). She also composed «Diptyque» for harpsichord, oboe, violin, cello (I: "Ogives", II: "Danse de l'Alhambra"), premiered during the Festival Opus 27 of Auvers sur Oise, and she received the Prize of De Lacour's Foundation as well.
Charlotte Marck has been a member of the SACEM since November 2006.
She always desired to explore all keyboard music, thus her taste for the various sonorities led her to play the Organ, which she studied with Francoise Dornier at the conservatoire of G. Fauré in Paris and received a first prize at the Paris CNR (centralized examinations). She also studied Improvisation with Pierre Pincemaille at the CNR of St-Maur-des-Fossés from 2006 to 2008. In addition, she received a first medal at the competition of U.F.A.M. (French Union of the Artists Musicians) in April 2005, and she also was one of the finalists at the first International Organ Competition of «Duruflé-Litaize» in Paris in November 2006.
Through master-classes of organ interpretation or improvisation, she had opportunities to study with Thierry Escaich, Wolfgang Seifen, Vincent Warnier, Olivier Latry and Hans-Ola Ericsson.
As a soloist and chambrer music performer, she likes playing all repertoires, from Renaissance period to modern music. In 2003 and 2007, Charlotte Marck was invited to play as the guest at the Festivals "L'Orgue en Fête" of Villeneuve sur Yonne, "Bach en Combrailles", «Reincken Festival» in Deventer – the Nederlands – … and since 2005 she performed with her trio «Les Ondes» (soprano, violin, organ or harpsichord) in Paris and in the West of France.
In september 2008, after studying organ with Michel Bouvard at the CNR of Toulouse, she moved to Amsterdam to study with Pieter van Dijk in Master's programme at the Conservatorium (CvA), where she also studies harpsichord with Menno van Delft. In 2008, she was a winner of the Bleustein-Blanchet's foundation in Paris.