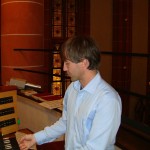 Burkhard Just, born in 1969 in Stade in Northern Germany, studied Organ, Church Music, School Music at the conservatories in Lübeck (Germany) and Zürich (Switzerland).
He finished his studies with several diplomas : Organ (1995), Church Music (1996), Music Teacher for Organ (1997), Concert diploma organ (2000), School music teacher (2002), soloists diploma organ (2003).
Among his teachers were Ludger Lohmann and Jon Laukvik.
Burkhard Just was successful at international organ competitions : e.g. in Freigerg – JS. Bach (1997, Finalist), Dublin (1999, Finalist), Odense 2002 (2nd prize and special prize for modern piece, no first was awarded).
Burkhard Just works as an organist and conductor of choirs in Switzerland, and he gives concerts as organ soloist and chamber musician.