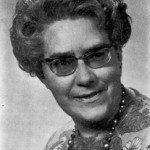 Jeanne Joulain | born in 1920 Jeanne Joulain was an organist and professor at the conservatories of Roubaix, Lille, and Amiens in France. She has concertized extensively in France and abroad, including at the cathedrals of Chartres and Saint-Sulpice.
During her studies at the Paris Conservatory, she won the prix de composition and premier prix in organ as a student of Guy de Lioncourt and Marcel Dupré.
She has published several organ pieces and reconstituted improvisations by Pierre Cochereau. Joulain was organist of the Church of Saint-Maurice in Lille.
She died on February 1, 2010.