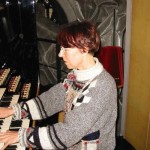 She was born in Épernay (in the Marne department). After advanced studies at the Conservatoire National Supérieur in Paris she obtained five first prizes for organ, improvisation, harmony counterpoint and fugue. She also has a thorough grounding in literature, and obtained a doctorate in music at the Sorbonne University in January 1999.
Odile Jutten took part in the European Organ Improvisation competition at Beauvais in 1983, winning the Grand Prix. Her recital activities also include improvisation, and she plays works ranging from the sixteenth century to the present day. She holds a lectureship in music at the University of Saint-Étienne, and is organist of Châlons-en-Champigny Cathedral, where the instrument she plays is a listed historic monument.
As a result of her interest in instruments of historical merit and in encouraging their use, she has now been supporting cultural associations concerned with organs in the Champagne region for over twenty years.
Odile Jutten is the artistic director and principal organiser of the first and second International Cavaillé-Coll Congress at Epernay in 1987 and 1994. She is the founder and president of the Marne Organ Federation. In 1994 she was appointed as a member of the Commission Supérieure des Monuments Historiques (the state-organised committee to which the protection and restoration of historic organs is entrusted).
Odile Jutten is at present investigating how the art of interpreting music developed between 1750 and 1850, basing her research on the evidence provided by mechanical instruments.