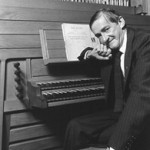 The Canadian organist, harpsichordist, and teacher, Bernard Lagacé, began his musical studies with Conrad Letendre at the Séminaire de St-Hyacinthe where he was organist at the age of 14. In 1948 he replaced Raymond Daveluy, then in Europe, at the St-Jean-Baptiste Church, becoming regular organist there in 1950. He subsequently worked with Yvonne Hubert (piano) and Gabriel Cusson (harmony and counterpoint). He was awarded a grant in 1954 by the Quebec government and studied in Paris 1954-1955 with André Marchal (organ). In 1956 he worked in Vienna under Anton Heiller, also learning the harpsichord from Isolde Ahlgrimm, Eta Harich-Schneider, and Ruggero Gerlin.
Returning in 1957 to Montreal, Bernard Lagacé taught from 1957 to 1978 at the Conservatoire de musique du Québec (CMM) and was appointed to the staff of Concordia University in 1978. He taught during the summers at the Canadian Amateur Musicians (CAMMAC) Music Centre, at the Choate Music Seminars in Wallingford, Connecticut, at the JMC Orford Art Centre, at the Académie d'été de St-Hubert in Belgium, and at the Académie d'orgue de St-Dié in France. In addition to his wife, Mireille Lagacé, and daughter Geneviève, his many pupils included Hélène Dugal, Dom André Laberge, Lucien and Réjean Poirier, and Wilhelmina Tiemersma. He was a founding member of the group Ars Organi and was active in the revival of the classical organ in North America. He served on the juries of international organ competitions in England, Belgium, France, Ireland, and Canada. Lagacé became known internationally as an organ recitalist. He performed many times in Canada (notably on the CBC), the USA, and Europe, including at important festivals. He became organist at the Sanctuaire Marie-Reine-des-Cœurs in Montreal in 1966.
Although he has played most of the important works of the organ repertoire, Bernard Lagacé is considered a specialist of Baroque music, and of Bach in particular. He performed the complete organ works of Bach on two occasions at the Immaculée-Conception Church in Montreal 1975-1977, 1987-1979. Following one of these recitals, Carol Bergeron commented that 'Bernard Lagacé delivers a clear, sensitive and intelligent discourse. This music speaks to us and one feels that the performer is at one with the music' (Montreal Le Devoir, October 1987). In the same church, he performed Dietrich Buxtehude's complete organ works in six recitals 1978-1979 with his wife.
In 1978 Bernard Lagacé was awarded the Prix Denise-Pelletier by the Quebec government, and in 1989 the Prix de musique Calixa-Lavallée. He was named Member of the Order of Canada in 1985.