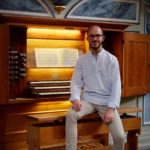 Aged 25 years old, Yanis DUBOIS studied the organ from 2009 to 2018 with Erwan Le Prado and Saki Aoki, in the organ class of the Conservatoire de Caen, after beginning it in the Conservatoire de Lisieux with Anne Dumontet.
He passed his Prix d'Orgue in 2015 with high honours.
Yanis then enriched his education in Writing, Harmony, Improvisation, Basso continuo, History of Music and Analysis in Constance Himelfarb's class.
In June 2018, he graduated from the Sorbonne University with a Musicology Bachelor's Degree and an Organist Bachelor's Degree, both with high honours.
During his studies, he took part in masterclasses with Olivier Houette, François Espinasse, Thierry Escaich, Michel Chapuis, Wolfgang Zerer, as well as Hans Davidsson and Bine Bryndorf from the Copenhagen Royal Academy of Music.
He was since heard in various concerts on the organs of Caen, Lisieux, Vire, Coutances, and during festivals in Gisors, the Abbaye de la Lucerne, Notre-Dame de Guibray in Falaise, Argentan and even London.
In 2015, he won the Third Price of the Northern Ireland International Organ Competition, as well as the Johann Sebastian Bach Price, and in 2016, the Second price of the Pierre de Manchicourt International Organ Competition.
Since September 2017, he is the organ co-holder of the Cathédrale de Lisieux.
In April 2018, he successfully passed the entry exams to the Master's Degree of the Lyon Conservatoire National Supérieur Musique et Danse (CNSMD), in François Espinasse and Liesbeth Schlumberger's classes.