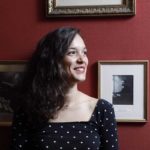 Loriane LLORCA was born in the south western part of France in the Béarn region. She starts her musical studies at the local Conservatory in Pau with Jesus Martin Móro, first on the piano, later switching to the organ. At the Toulouse Conservatory she studies organ with Stéphane Bois, Michel Bouvard and Jan Willem Jansen (also teaching her harpsichord), while she pursues her training on the piano with Yasuko Uyama-Bouvard .
After 3 years of studies at the Sorbonne, Loriane Llorca graduates in general music theory (licence grade): the young artist is able to combine theoretical knowledge and practical performance, tradition and modern age, understanding them all as complementary elements which cannot be separated. Thus, she passionately dedicates her work to a broad and varied repertoire, always aiming to make the audience feel the immense musical richness of the organ.
In June 2015 she graduates with the organ prize, noted unanimously "very good" with the jury's congratulations.
In 2016 she pursues her organ studies at the National Conservatory in Paris with Olivier Latry and Michel Bouvard ; she is receiving scholarships from various foundations (e.g. from the Yves-Brieux – Foundation in Ustaritz ;  the Meyer-Foundation is awarding her the Tarazzi-Founds as well as  "l'Or du Rhin"  found, dedicated to classical music).
In 2017 she wins the Great Prize and the Public Prize at the international competition "Jean-Louis Florentz" – held under the auspices of the Academy of Arts – Institut de France.
Loriane is giving recitals as a soloist, but she particularly enjoys accompanying soloist singers and instrumentalists (violin and flute), and is successfully playing with ensembles such as the Toulouse Orchestre du Capitole.
During the current academic year 2018-2019, while continuing her organ studies at the CNSM in Paris, Loriane has been appointed annual organist in residence at the Centre for Baroque Music in Versailles, playing as well basso continuo for its affiliated singing school.