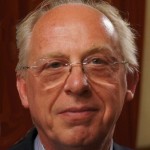 Since 1985 Philippe Lefebvre has been organist-titular of Notre Dame Cathedral in Paris. He discovered the organ at age 15 ; on the advice of Pierre Cochereau, then Organist of Notre-Dame, he began studies in organ and improvisation first at the Conservatory in Lille ont then Paris. In 1971 he was awarded the first prize in organ and improvisation from the National Conservatory and first prize in counterpoint and fugue. He also won first prize in improvisation at Lyon and one year later first prize in the prestigious Chartres Cathedral international competition.
In 1976 he was appointed titular organist of Chartres Cathedral, then in 1985 as titular of Notre-Dame Cathedral with Olivier Latry and Jean-Pierre Leguay.
Alongside his concert career Philippe Lefebvre is "manager": it has been for over twenty years as director of the National Conservatory of Lille, the oldest in France, which under his leadership became one of the most famous in 1700 with students.
He was then appointed Director of the Master of the Cathedral Notre-Dame de Paris, General Director of Services of the Cathedral Notre-Dame de Paris, and for several years he was a professor of improvisation at the National Superior Conservatory of Music in Paris .
Philippe Lefebvre has traveled the world playing concerts and conducting master classes. He has many recordings to his name and is regarded as one of the players and improvisers most representative of the French Organ School, an art which he illustrates troughout the world.