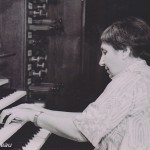 Born in July 1920, she was student of Marcel Dupré at the Paris Conservatory and obtained a 1st Prize in 1946.
She also received valuable lessons from Jean Langlais.
While pursuing a career as a performer and improviser, Micheline Lagache succeeded in the early 1950s to Jules Fleurdeau keyboards of the great organs of the former church of the Augustinian convent of the place of the Petits Peres.
In 1987 she retired, while retaining some substitutions services at the Saint-Denis Basilica. Organ professor at the CNR of Nantes and the fourteenth district of Paris, she is remembered as an excellent teacher and a musician of high class.
Honorary organist of the Kern organ of the Basilica of Our Lady of Victories (Paris II).
† 1999
Denis Havard de la Montagne
www.musimem.com
(with his permission)