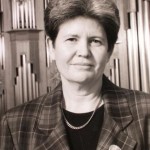 Born in Casablanca (Morocco), Marie-Louise Jacquet did her studies and music studies at the same time. She enters the Jean Langlais' class in the Schola Cantorum of Paris. In 1969 she obtains the diploma of virtuosity for the organ and improvisation. At the same time she passes the master of musicology.
She started the teaching of organ as professor in Conservatoire of Marseille (1974-1987)
After her wedding with Jean Langlais in 1979, she becomes her attendance on the Cavaillé-Coll of Basilique Sainte-Clotilde in Paris. In 1985, she is nominated as organ and improvisation teacher at the Schola Cantorum and then in Conservatoire National de Région of Paris in 1988.
She publishes a lot of articles, and she wrote a thesis on Jean Langlais : Shadow and Light – Jean Langlais (1907-1991)
Marie-Louise Langlais accomplished several concerts in Europe and America. She has been member of jurys of international competition.
2007 is the centenary of Jean Langlais' birthday. It's a very important moment for her. She takes part in several festivals, conferences and meetings, which celebrate that event.