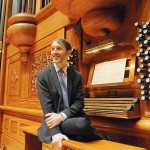 Since 1985, Olivier Latry has been the tenured organist of the Great Organ of Notre-Dame de Paris, with Philippe Lefebvre and Jean-Pierre Leguay.
Olivier Latry is considered to be one of his generation's most remarkable organists, not only in France, but internationally. After beginning his musical studies in Boulogne-sur-Mer, where he was born in 1962, he started taking organ classes with Gaston Litaize at the Conservatoire National de Région de Saint-Maur in 1978. At the Conservatoire de Paris, he studied writing with Jean-Claude Raynaud.
He began teaching organ starting in 1983 at Paris's Institut Catholique then at the CNR de Reims, later succeeding his mentor Gaston LITAIZE at the CNR de Saint-Maur in 1990. In 1995, he was appointed organ professor at the Conservatoire National Supérieur de Musique de Paris alongside Michel Bouvard.
Tenured organist on the great organ at the Meaux Cathedral from 1981 to 1985, at the age of 23, he won the competition to become tenured organist on Notre-Dame de Paris's prestigious great organs, succeeding Pierre Cochereau. He still shares this activity with Philippe Lefebvre and Jean-Pierre Leguay.
Olivier Latry's activity as a concert organist has taken him to more than fifty countries on five continents, most often to the United States. The American Guild of Organists invited him to their 1988 convention in Houston, making him one of the most popular French organists in North America. He has also made several recordings (Bach, Mozart, Schumann, Widor, Franck, Vierne, Duruflé and more) that have won him critical acclaim.
Olivier Latry does not want to become specialised in one specific repertory and serves as an ambassador for French music from the 17th to the 20th centuries as well as the art of improvisation. He is one of today's most renowned improvisationalists, following in the exceptional French tradition of Charles Tournemire and Pierre Cochereau. He is especially fond of contemporary music, and has participated in creating works with Xavier Darasse, Claude Ballif, Thierry Pecout, Vincent Paulet, Thierry Escaich and Jean-Louis Florentz. He also worked extensively on the work of Olivier Messiaen, performing his entire works for organ in 2000 in a series of high-profile concerts in Paris, London and New York. These works were recorded at Notre-Dame de Paris for Deutsche Grammophon.
In recognition for his works in favour of the organ, he was awarded the Prix de la Fondation Cino et Simone Del Duca, which was officially given to him in November 2000 under the cupola of the Institut de France. In the United Kingdom, he was granted the North and Midlands School of Music's Honorary Fellowship in 2006, and that of the Royal College of Organists in 2007.