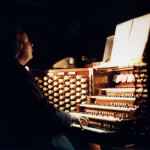 Yves Devernay was born in 1937 in Tourcoing North of France.
After receiving his first music lessons from his father – who is himself an organist – he succesively studied music in Roubaix and Lille – then in 1960 he was awarded the First Prize of Organ in improvisation, interpretation at the Conservatoire National of Paris.
Yves Devernay, howewer, did not leave it at that. After improving his technique with the help of Marie-Claire Alain, he was the winner of a number of international conteste in improvisation and interpretation at Haarlem (Holland) in 1962, as well as at St Albans (England) in 1964.
Again, he won a First Prize for improvisation at the international contest of Lyon.
In June 1971, he was awarded the First Prize at the international contest of Chartres. Since 1985 Yves Devernay is titular of the organ of Notre-Dame Cathedral in Paris; and also teaches music in Roubaix and Valenciennes in the north of the France.
His numerous concerts in France and abroad (England, Germany, Holland) make him one of the great organiste of our century.
Yves Devernay is a great improviser, and has moreover composed many pieces for choir and organ, as well as two concertos for orchestra and organ