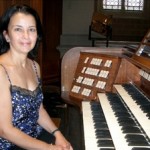 Marie-Bernadette Dufourcet Hakim was born in Bayonne (France, Pyrénées atlantiques).
She is Doctor from the Sorbonne and Professor at the University Michel de Montaigne in Bordeaux where she teaches History of Music. She studied with Susan Landale, Marie-Claire Alain and Jean Langlais, then at the Conservatoire National Supérieur de Musique de Paris in the classes of Rolande Falcinelli, Jeanine Rueff, Jean-Claude Henry, Marcel Bitsch, Serge Nigg and Paul Mefano, where she won first prizes in organ, improvisation, harmony, counterpoint and second prizes in fugue, instrumentation and orchestration.
She is a licentiate performer from the Trinity College of Music in London, winner of First Prizes at the International organ and improvisation competitions in Rennes (F.), St. Albans (G.B.), Beauvais (F.), as well as the second Grand Prix d'interprétation of Chartres (F.). She is titulaire of the Grand-Orgue Cavaillé-Coll of l'église Notre-Dame-des-Champs in Paris. She participates as concertist and teacher, at several European and American festivals and is juror in international competitions. Her repertoire includes music from the Baroque period to the 20 th century.
As musicologist, she is interested more particularly in the French and Spanish organ from the XVIth to the XVIIth centuries and was involved in several projects of researches : at the Sorbonne (« Patrimoine musical », dir. Prof. Edith Weber, and at the Centre national de la Recherche Scientifique CNRS, «Institut du Patrimoine musical en France », UMR 200) ; she is now active in the group ARTES, Dir. Prof. Jean-Pierre Bertin Maghit at the University of Bordeaux 3 and in the group « Patrimoines musicaux, Moyen Age – XVIIe s. », dir. Prof. Frédéric Billiet, at the Sorbonne.