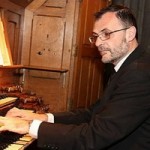 Born in 1964 in Paris, Yves Castagnet completed his musical studies at the National Conservatory of Music and Dance of Paris, in the organ, harmony, counterpoint, fugue, orchestration and improvisation. These studies have been awarded several first prizes, among them a first Organ Prize in 1985.
In 1988, he won the grand prize for interpretation at the International Competition of Chartres and began a solo career that allows him to perform regularly in France and abroad (UK, USA, Germany, Italy, Spain, Portugal, Sweden, Hungary, Czech Republic).
Alongside his solo activities, Yves Castagnet devotes a large part of his time to the liturgical organist. It is since 1988 the choir organ holder of the Notre-Dame de Paris, where he accompanied daily services sung by the Maîtrise of the Cathedral.
As both recitalist and continuo, Yves Castagnet is very attached to the accompaniment of singers. As part of the Maîtrise of Notre-Dame de Paris, he teaches the interpretation of the singers adult choir, which he regularly accompanies productions in concert. He was also invited by other formations, such as the Concert d'Astrée (Emmanuelle Haim), the Radio France Choir or Chorus of the University of Paris-Sorbonne.
Yves Castagnet has already recorded five discs, all greeted by the highest awards of journals: Dupré (Symphonie-Passion and Evocation) and Vierne (Symphonies No. 1 and 2) to the great organ of the abbey Saint-Ouen in Rouen, Sony; Mendelssohn (the six sonatas) the great organ of the church of Masevaux and Duruflé (Requiem) to major organs and with the Maîtrise of Notre-Dame de Paris, BMG; Liszt album, Reubke, Schumann, Mendelssohn the great organ of the Church of the Madeleine (Paris) MKI home. In late 2005, he published at Intrada disc of works by Dupré the great organ of Notre-Dame (The Way of the Cross / Second Symphony in C sharp minor).