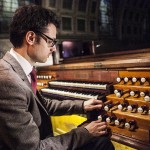 David CASSAN was born in 1989. He studied at Conservatoire de Caen where he got a first prize in the class of Erwan Le Prado. Holder of a musicology bachelor's degree from the University La Sorbonne Paris IV, he also pursued the organ improvisation class of Pierre Pincemaille at Conservatoire de Saint-Maur-des-Fossés, rewarded by a first prize. After that, he studied with Thierry Escaich, Cyril Lehn, Pierre Pincemaille, Alain Mabit, Olivier Trachier, Philippe Lefebvre, Laszlo Fassang, Louis-Marie Vigne, Jean-François Zygel, François Espinasse and Liesbeth Schlumberger at Conservatoire National Supérieur de Musique et de Danse in Paris and in Lyon, where he obtained the prizes for organ, improvisation, harmony, counterpoint, fugue and forms, Renaissance polyphonies and XXth century composition.
David Cassan is a recognized artist, as evidenced his numerous prizes and distinctions. Indeed, he received the best award from the international competitions of Pierre Pincemaille (France), AndréMarchal (France), Boëllmann-Gigout (France), Merklin (France), Haarlem (Netherlands), Saint-Albans (England), Westfalen Impro 5 (Germany), Schwäbisch Gmünd (Germany) as well as the Great Jean-Louis Florentz International Prize from the Academy of Arts (France). He is also laureate from Dudelange's competition (Luxembourg).
In September 2016, he won ex aequo the "Grand Prix de Chartres" of Improvisation.
Consequently, he is one of the most rewarded organists of his generation.
From now on, he is leading a soloist and accompanist career, while honouring his role of titular organist at the 'Oratoire du Louvre' in Paris. This career gave him the opportunity to play with numerous famous artists and orchestras (Didier Sandre, Jean-Loup Chrétien, Orchestre National de Lyon, Capitole de Toulouse, Quatuor Girard, Romain Le Leu…) in prestigious places in France and abroad (Germany, Luxembourg, Spain, Belgium, England, Uruguay, Ireland, Netherlands, Italy, Swiss…).
He is also professor of organ and improvisation at the CRR Nancy.