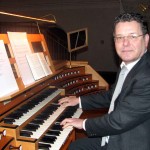 Wolfgang Hörlin was born in 1955 in the spa town of Bad Mergentheim in South-western Germany.
He was educated in the historic cathedral city of Regensburg in Bavaria which was to become the focus of his lacer professional work as academic, teacher and performer of organ music.
Under the influence of Professors Weinberger and Lehrndorfer, Herr Hörlin's main interest have centred on liturgical music for the offices of the Catholic Church and, also, on that most difficult of musical genres, improvisation.
His accomplishment in the latter field has been marked by successive highly-placed awards at two international competitions held in Germany during 1988 and 1989 and culminated, this year, in his winning the prestigious International Improvision Competition in the great 'organ city' of Haarlem.