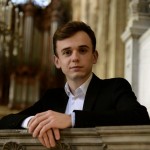 Born in 1990, Thomas Ospital began his musical studies at the Conservatoire Maurice Ravel in Bayonne (France). While in Bayonne, his organ studies were with Esteban Landart. He completed his studies with Landart in 2008 (Mention Très bien à l'unanimité).
From 2008 until 2015, he was a student at the Conservatoire National Superieur de Musique de Paris. His teachers included Olivier Latry, Michel Bouvard, Thierry Escaich, Philippe Lefebvre, Laszlo Fassang, Isabelle Duha, Pierre Pincemaille and Jean-François Zygel. He got five first place prizes in this conservatoire in organ, improvisation, harmony, counterpoint and fugue.
In 2012, he served as Young Artist in Residence at the Cathedral-Basilica of Saint Louis King of France in New Orleans.
He was the First prize winner at the International Competition of Organ in Saragossa (Spain) in 2009, Durufle-Prize and Public Prize at the International Chartres Competition in 2012, Second Prize at the International Xavier Darasse competition in Toulouse. In may 2014, he obtained the Grand Prix Jean Louis Florentz and the Public Prize at the International organ competition of Angers under the direction of the Académie des Beaux-Arts. In November of the same year, he was awarded Second Prize, the Public Prize and the Florentz Prize at the International Chartres competition.
He frequently performs in different countries as a soloist or with choir or orchestra.
In March 2015, he was appointed as titular-organist of Saint-Eustache church in Paris.
Improvisation plays an important part in his professional activities. Anxious to perpetuate this art in all its forms, he makes use it whilst accompanying silent films.