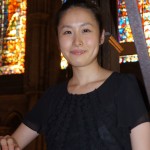 Keiko NAKATA starts her organ studies in Japan, first with Keiko Utsumi, later under the direction of Hatsumi Miura.
In 2004, she is admitted to Geidai University of Arts in Tokyo studying organ with Tsuguo Hirono and Rie Hiroe, and harpsichord with Naoya Otsuka and Masaaki Suzuki.
In 2008, she obtains the BA degree in organ and is admitted to take part in the Master cycle, to perfect interpretation until February 2011. She obtains the master degree presenting a dissertation on the Bach Toccata in C major (BWV 564), dissertation published in edition n°38 of the JAPAN ORGANIST.
As appointed organist at the Reformed Church in Kamakura Yukinoshita, she is a member of the Japanese organists' association and she has given many concerts in Japon.
Since October 2011, she continues her training at the CRR in Paris , studying organ with Christophe Mantoux and harpsichord with Noëlle Spieth.