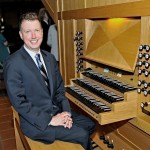 Stewart Wayne Foster is the Organist-in-Residence at the First Congregational Church in Los Angeles, California, where he presides over one of the world's largest pipe organs. As part of this prestigious position, he performs weekly recitals and helps coordinate the Annual Organ Recital Series. His performances have been praised by critics worldwide. According to a review by The Dallas Morning News of one of his most recent concerts, "You can play the organ differently, but you can't play it any better than Stewart Wayne Foster… [He played] with technical finesse second to none and an Apollonian elegance of expression".
Stewart Wayne Foster is a native of Florida where he studied organ as an undergraduate at Stetson University. He went on to receive his Master's degree in the harpsichord and early music from the University of North Texas and, in organ, his Diplôme de Concertiste from the École Normale de Musique in Paris, where he lived for five years. While there, he was staff continuo player with L'Orchestre de St. Louis-en-l'Ile, and accompanist for the Paris Choral Society, in addition to serving as assistant organist at the American Cathedral in Paris. His many awards include the Gold Medal and Audience Prize at the 1997 Dallas International Organ Competition ; First Prize at the William Hall Organ Competition ; First Prize at the École Normale de Musique ; and First Prize at the American Guild of Organists' Regional Competition.
Known for his vast and eclectic repertoire, Stewart Wayne Foster has performed as soloist with the Dallas Symphony Orchestra, the Augusta Symphony, and the Charleston Symphony, and has accompanied numerous fine choral groups and vocalists throughout his career. He has released one CD recording of French Symphonic organ works on the Towerhill label. He recently released a new CD on the historic Huguenot Church organ in Charleston, South Carolina. He has been interviewed several times on NPR's Pipedreams. He co-produced a new DVD documentary on the world's largest church pipe organ at First Congregational Church in Los Angeles. Stewart Wayne Foster has provided organ music for the film "Marie Antoinette" (2006) and for the television show "Ugly Betty." Recent performances include the Washington National Cathedral, the Meyerson Symphony Center in Dallas, and, in 2008, a solo recital for the National Convention of the American Guild of Organists.