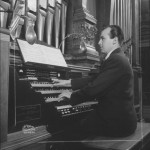 Alois Forer was born February 19, 1909 in Upper Telfs in the Inn Valley.
He studied at conservatories and universities of Innsbruck and Vienna, organ music with Franz Schütz, composition with Franz Schmidt and Joseph Marx, and music education. For decades, Forer has successfully trained numerous students who won many prizes at international competitions.
Longtime organist in Vienna, Forer was not just a teacher, but he also had an important artistic activity as a soloist in many organ concerts and radio and CD recordings, and as soloist in concerts with major orchestras and famous conductors of his time, Furtwängler and Toscanini to Karajan.
Forers was invited as a juror for international organ competitions (Grand Prix de Chartres 1973).
With the creation of TOE (organologische Institute for Research and Documentation of the University of Music and Performing Arts) in the early seventies, Forer continued his career as an expert in restoration and organ construction.
Consultant Confederation monument Office 1977.
Awarded the Cross of Honour for Science and Art and Badge of Merit in Gold of the Republic of Austria and the medal of honor of the Federal Capital (Vienna).
The University of Music and Performing Arts Vienna was awarded the gold medal. Golden Honorary Medal of the University Mozarteum
Forer Alois died on 26 October 2001.