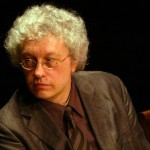 Born November 23, 1953 – Liège, Belgium The Belgian organist and composer, Bernard Foccroulle, studied organ at the Conservatoire de Musique of Liège in the class of Hubert Schoonbroodt. He continued his studies with Xavier Darasse, Bernard Lagacé and Gustav Leonhardt.
The international career of Bernard Foccroulle was launched with his participation at the Festival of Royan in 1974. He became well-known by his recording of the complete works for organ of J.S. Bach. He feels at home in Baroque music as well as contemporary music. He serves as Professor of musical analysis to the Conservatoire of Liège, has written numerous pieces for his instrument, but also chamber works, particularly with participation of viola da gamba.
In January 1992, Bernard Foccroulle succeeded Gerard Mortier at the post of director of the Théâtre Royal de la Monnaie, and from 2007 was succeeded by Peter de Caluwe. He was appointed as the head of the International Festival of lyric art of Aix-en-Provence on January 1, 2007, succeeding Stephan Lissner.