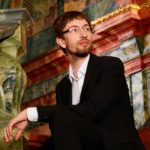 Born in 1996 in Stuttgart, Sören Gieseler began his organ and piano studies in 2004. In 2012, he began studies at the Musikhochschule Stuttgart in the school's pre-college program, continued with church music studies in 2014, and is now completing his masters.
Taking advantage the school's many instructors, he has studied literature and improvisation with Prof. Jürgen Essl, Prof. Jörg Halubek, Prof. Helmut Deutsch, David Franke, Tobias Wittmann, as well as piano with Maria Sofianska.
He is regular attendee of masterclasses, where he has additionally benefitted from lessons with Daniel Roth, Juan de la Rubia, Luca Scandali, Jeremy Joseph, among others.
In 2019 he won the first prize in the 7th International Joseph Gabler Organ Competition.
In addition to his work as organist and choir director, he maintains an active concert career that has taken him to France, Italy, and Spain.