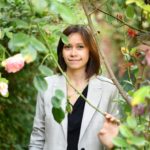 Fanny Cousseau graduated from the Conservatoire à rayonnement régional (CRR) of Paris and the Conservatoire à rayonnement départemental (CRD) of Saint-Maur-des-Fossés in organ, piano and accompaniment.
She then joined the organ class of the Conservatoire national supérieur de musique et de danse (CNSMD) in Lyon and studied at the Universität für musik und darstellende kunst Wien (MDW) in Austria.
During her studies, she benefited from the teaching of renowned organists such as Éric Lebrun, Christophe Mantoux, Jeremy Joseph and François Espinasse.
In 2019, she won two prizes at the Olivier Messiaen International Organ Competition, including the prize for the best interpretation of Messiaen's works.
A sought-after musician, Fanny Cousseau regularly performs as a soloist, with choir or with orchestra in various prestigious venues such as the Saint Eustache church in Paris, the Lyon Auditorium, the Algerian Consulate in Tlemcen or the Jesuitenkirche in Austria.
Very attached to vocal music, she co-founded the duo Aloysia in 2015 with the coloratura soprano Géraldine Casey.
Fanny Cousseau is organist at the Temple de Port Royal in Paris.