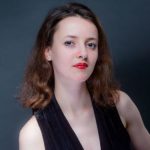 Born in December 1997, Lucile Dollat is the winner of several international competitions, including the Grand Prix and the Audience Prize of the André Marchal – Gaston Litaize International Organ Competition (Paris, 2017), the Prix de la Ville d'Angers as well as a distinction for the best performance of a work in creation at the Concours International d'Orgue Jean-Louis Florentz – Académie des Beaux-Arts (Angers, 2017), as well as the Second Prize ex-æquo at the Concours International d'Orgue "Pierre de Manchicourt" de Béthune – Saint-Omer (2016).
Lucile has a concert career throughout Europe, notably in France, Spain, Germany, England and Italy. She is keen to program varied and surprising works from the 16th century to the present day. She willingly joins forces with various instrumentalists, actors and dancers to reveal new facets of the organ. This is how she performs both as a soloist and with other formations: she has notably played with the Ensemble Intercontemporain at the Philharmonie de Paris, the Orchestre de Chambre de Paris, the Madrigal de Paris, the Chœur de Chambre d'Île-de-France…
In 2016, she received an Organ Prize and an Organ Improvisation Prize at the Conservatoire Saint-Maur-des-Fossés (classes of Éric Lebrun and Pierre Pincemaille) with the highest distinction. She continued at the Conservatoire National Supérieur de Musique et de Danse de Paris in organ with Olivier Latry, Michel Bouvard, in improvisation with Thierry Escaich and Laszlo Fassang, and in writing with Fabien Waksman and Jean-Baptiste Courtois. In June 2018, she obtained her Diplôme National Supérieur de Musicien Professionnel in organ with the highest distinction as well as a Harmony Prize. In June 2019 Lucile obtains a Prix de Contrepoint in 2019 and then the Master's degree in organ with highest honors in June 2020.
Lucile is titular of the Cavaillé-Coll organ of the church Notre-Dame de la Gare (Paris XIIIe), of the historical organ of the church Notre-Dame des Vertus (Aubervilliers), and substitute of the Abbey symphonic great organ of the church Saint-Vincent de Paul (Clichy-La-Garenne). Lucile is supported by the Mécénat Musical Société Générale and by the Fondation de France.