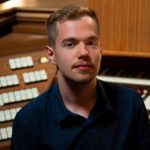 His musical education begins at the age of 11.  In 2016 he graduated from the Parma Conservatory, in the class of  Mario Verdicchio, with a master degree "cum laude" and the jury's unanimous honors.
At the age of 13 he was appointed co-titular organist of the Basilica magistrale di S. Maria della Steccata in Parma, introduced by the titular organist Ugo Leoni.
In 2016, Gabriele Agrimonti was admitted at Paris Conservatory (Conservatoire National Supérieur de Musique et Danse de Paris) where he is currently studying improvisation and applied composition theory under the guidance of renowned teachers such as Thierry Escaich, Laszló Fassang, Thomas Ospital, Thomas Lacôte, Yves Henri, Olivier Trachier…
Moreover, his participation in numerous master-classes allowed him to receive precious advice from famous organists: Olivier Latry, Jean Guillou, Yanka Hékimova, Baptiste-Florian Marle-Ouvrard, Henri-Franck Beaupérin…
In 2017, he won the Grand-Prix d'improvisation at the international improvisation competition Marchal-Litaize in Paris ; in 2018 he was amongst the finalists at the Haarlem Competition (Netherlands). In 2019 he is the first Italian to win the First Prize (Tournemire Prize) at St Albans' Improvisation competition (UK) ; he also is awarded the First Prize at the Boëllmann-Gigout Competition in Strasbourg.
Gabriele Agrimonti is enrolling in to a prolific international concertist career all over Europe.
His repertoire is reaching from the Renaissance period to contemporary music, a large part of this performance being dedicated to improvisation.
He is also cooperating with other arts' categories such as cinema or dancing.