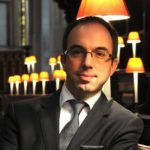 Described by Gramophone magazine as "A brilliant and sensitive musician, achieving greatness through his calm demeanour", Simon JOHNSON has been the Organist of St Paul's Cathedral for 12 years.  During this time he has performed for Her Majesty the Queen, the Dalaï-Lama, numerous Prime Ministers and Archbishops, and at all the state occasions that have taken place at St Paul's during his tenure.
He studied the organ with Anne Page and Marie Claire-Alain and held prestigious scholarships at Rochester, Norwich and St Paul's Cathedrals.  Recitals have taken him to many of the great venues in the USA and Europe, including a Royal Festival Hall debut in 2017.  Forthcoming work includes two solo tours of the USA, appearances at the International Festivals of Chartres and Berlin, and at the Westminster Abbey Summer Organ Festival.
As a Director, Simon JOHNSON has played an important role in the Cathedral's ongoing partnerships with leading orchestras in London, conducting many significant works from the repertoire by Bach, Handel, Mozart, Bruckner, Saint-Saëns, Strauss, Gershwin, Poulenc, Duruflé and Messiaen.  Previously he enjoyed a distinguished tenure as Director of St Albans Abbey Girls' Choir, leading them in several highly-acclaimed recordings and tours.
Simon's advice and analysis is sought worldwide: in 2018 he was a keynote speaker at the Pontificium Consilium de Cultura at the Vatican, and he is on the Academic Board of The Royal College of Organists, for whom he is also an examiner.
Simon JOHNSON has collaborated with various organisations including NASA and the International Space Station (a sell-out performance of Holst's The Planets, 2018), the LSO, the RPO, and The Sixteen. He has recorded for Decca and Hyperion, been published by OUP and Peters, and worked on the Oscar-winning soundtrack for The Grand Budapest Hotel.