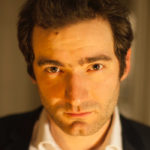 Born in 1984 in Besançon, Samuel Liégeon obtained seven first prizes from the Conservatoire National Supérieur de Musique de Paris in organ and piano improvisation as well as in writing, analysis and orchestration.
In 2009, at the age of 24, he was appointed titular organist of the great organ of Saint-Pierre de Chaillot in Paris, parish of the Champs-Élysées. Passionate about musical creation and the art of improvisation, he won five international competitions between 2008 and 2012: Haarlem, Chartres, Leipzig, Strasbourg, Muenster. In 2012-2013, he was named young artist in residence in New Orleans, a stay during which he was influenced by jazz music, American painting and infinite landscapes. In parallel to his musical studies, he devotes himself to painting, which he readily defines as an echo of his musical gesture. In music as in painting, the Renaissance and the 20th century have a strong influence on his work. Quickly abandoning figuration, he finds in a form of poetic abstraction the resonance of large acoustic spaces where the rhythm of the line, the harmony of the colors and the movement of the form mingle.
He is regularly invited in Europe and the United States as a musician but also as a painter during exhibitions where music and painting are often mixed. He is regularly heard on radio programs dedicated to him or in the film industry, with whom he regularly collaborates for the accompaniment of films.
Samuel Liégeon has been teaching analysis, composition and arrangement since 2013 at the Pôle Sup' 93 as well as organ improvisation at the Ecole Supérieure de Musique et Danse de Lille.
In perpetual search of an artistic ideal, Samuel Liégeon set up in 2018 his painting workshop and music studio in Burgundy where he divides his time between musical and pictorial creation.