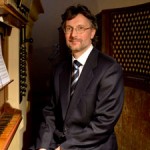 Roberto Antonello was the winner of the Second Prize in Interpretation at the Organ Competition 'Grand Prix de Chartres 2000', prestigious and longed for event where no Italian player was awarded nor entered the final round in its 30-year history.
Born in 1967, near Padova, he graduated in Organ and Organ Composition at the National Conservatory in Castelfranco Veneto (near Treviso) with honors, and, later, in Choral Music and Choir Conducting. In 1992, he obtained full honors at Bologna University with a final dissertation in Elements of Harmony and Counterpoint dealing with "Cesar Franck's Trois Chorals".
He enriched his training attending many interpretation masterclasses, in Italy and abroad, held by : M. Radulescu, H. Vogel, M. Chapuis, M. Torrent, J. Boyer, P. Kee, G. Bovet, D. Roth.
He took part in several international organ competitions and won many prizes and honors, among them : First Prize (1989) in Gorizia (near Trieste), a Second Prize (1991) in Noale (near Venice), a Second Prize (First Prize not awarded) (1998) in Brig.
In 1994, he was appointed titular teacher for Organ and Organ Composition first at the Avellino Conservatory, now in Vicenza.
He has played in important festivals and music seasons in Italy, England, Switzerland, France, Belgium, Germany, Spain, Slovenia, Czech Republic, Canada, South Africa, Brazil, Paraguay.
He is titular organist in the Basilica 'Madonna dei Mira-coli' in Motta di Livenza (Treviso). Besides teaching and concerts, he has done some musico-logical research.
In 1996 he was invited to present a paper at the International Organ Academy at the School of Music and Musicology – Goteborg University (Swe-den) dealing with "Registration in C. Franck's Organ Works". Since 1998, he has been editing the printed critical editions of the 'Vespri di S. Ignacio' and the 'Misa a San Ignacio' by D. Zipoli (coming from the Jesuit Missions in South America in the 18th century).
His work on unknown South-American baroque music, gives new repertory to the 'Ensemble Zipoli' of which he his a member.