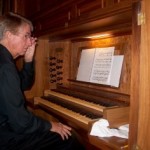 Robert Burns King, a native of South Carolina, is Organist-Choirmaster of First Presbyterian Church in Burlington, North Carolina, Instructor of Organ at the University of North Carolina at Greensboro, and University Organist at Elon University.
He was graduated from Furman University with degrees in Organ and French, and holds the Master of Sacred Music degree from Union Theological Seminary in New York City, where he studied organ with Vernon de Tar of the Juilliard School.
As a Fulbright Scholar, King studied in Paris with Jean Langlais and Maurice Duruflé and was the first American to win the Prix de Virtuosité from the Paris Schola Cantorum. He has also studied with Michael Schneider in Cologne Germany.
King has performed in Germany, France, Italy, Scotland, and Portugal, and this past summer played an organ recital at Saint Paul's Cathedral in London.
He has appeared with the North Carolina Symphony and at regional conventions of the American Guild of Organists.