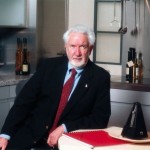 Lothar Klein was born in Hannover, Germany in 1932, raised in England, educated in the United States, and, became a naturalized Canadian citizen in 1985. By age 12, he was already an excellent pianist. From the time he was a young boy he was attracted to symphonic music. He received a diversified education, which included studies in philosophy and literature and piano with Olga Samaroff-Stokowski.
From early in his creative career, Lothar was writing works for some two dozen stage and for film productions, earning the Golden Reel Award from the American Academy of Film Sciences in 1956. Other awards include Rockefeller New Music Prizes (1965 and 1967) and the Greenwood Choral Prize (1968, for Three Chinese Laments), and the Floyd S. Chalmers Performing Arts Creation Award in 1982.
His compositional efforts were encouraged by Dimitri Mitropoulos, Antal Dorati and Goffretto Petrassi. He also studied with leading exponents of the avant-garde in Berlin. He studied composition with Paul Fetler at the University of Minnesota, orchestration privately with Antal Dorati (1956-8), and composition in 1956 with Goffredo Petrassi at Tanglewood and on a Fulbright Fellowship (1958-60) with Josef Rufer and Boris Blacher in Berlin, and Luigi Nono in Darmstadt. In 1961, he received a Ph.D. in Musicology and Composition from the University of Minnesota.
He taught at the Hochschule für Musik as assistant to Boris Blacher (1958-60) and at the Universitiy of Minnesota (1962-4) and the University of Texas (1964-8) before joining the Faculty of Music at the University of Toronto as Professor of Composition in 1968. He became Chairman of Graduate Studies in Music (1971-76).
His music has been performed by virtually every North-American symphony orchestra and performed by such conductors as Karel Ancerl, George Szell, André Previn, Akiro Akiyama, Sir John Barbirolli, Sir Andrew Davis, Charles Dutoit, Walter Susskind, Franz-Paul Decker, Heinrich Bender, Antal Dorati, Milton Katims, Victor Feldbrill, Werner Torkanowsky, and Stanislaus Skrowaczewski.
Lothar's works are as prolific as they are diverse, with over 150 compositions, including more than thirty orchestral works. "He had a special interest in writing for the orchestra", said his friend and fellow composer John Weinzweig.
Lothar Klein's orchestral works prompted Irving Kolodin of the Saturday Review to refer to him as a "composer of excellent equipment and considerable enterprise… his eyes, too, are on the stars". Indeed, orchestral music occupied a prominent place in Klein's catalogue of compositions. Arthur Cohn, writing in Hi-Fidelity, praised him as "an orchestral craftsman of a very high order". No less a composer then Witold Lutoslawski has praised his orchestral skills "of great brio and temperament".
In 1966, when Kolodin's review appeared, Lothar Klein was one of four young North American composers whose works had been chosen by George Szell for a Cleveland Orchestra premiere. Klein's work, Musique à Go-Go (A Symphonic Mêlée) (1966), a jazzy, virtuosic orchestral study, was described by High Fidelity as "a veritable tour de force worthy of Ravel and Stan Kenton". With over 100 performances of Musique à Go-Go, his many other orchestral works have been performed at music festivals all over the World, making Lothar Klein one of the most often performed, if not the most internationally recognized Canadian composer of concert music.