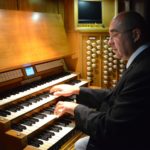 Pierre MÉA was born in Reims (France) in 1971. He studied music in Reims under the famous organist Olivier Latry and was awarded a first prize for organ in 1988. The same year he was also a finalist at the International Organ Competition in Nimège in the Netherlands. He further studied under Michel Chapuis, Michel Bouvard and Louis Robillard, all distinguished professors of organ music.
In 1991 he was awarded two first prizes in Organ and Harmony from the Conservatoire National Supérieur de Musique de Paris and, in 1993 he obtained a Diploma for Excellence in Organ Performance from the Conservatoire de Lyon.
In 1992, Pierre Méa became a winner of the Yehudi Menuhin Foundation. He was substitute organist at Notre-Dame de Paris for eleven years and is currently the regular organist of Reims  Cathedral.
Pierre has performed with renowned orchestras such as the Orchestre de Paris, the French National Orchestra, the Cappella of Saint Petersburg and the National Orchestra of Montpellier Languedoc – Roussillon, under famous conductors such as Riccardo Muti, Kurt Masur, Leonard Slatkin and Vladislav Tchernouchenko.
He has also been Professor of Organ at the Conservatoire National de Région de Reims since 1994.