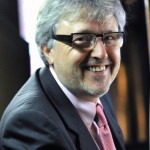 In his early childhood Patrick Delabre discovered his passion for music, and he learned to play keyboard instruments and choir singing. Then he studied organ and composition at the National Conservatory of Lille where he received an introduction to choir conducting.
At the Conservatoire National Superieur de Musique of Paris he continued his studies in harmony, counterpoint, fugue and organ, winning four prizes.
In 1976 he was appointed assistant organist at Chartres cathedral with Philippe Lefebvre as main organist ; he took over from him in 1986 as head organist.
Patrick Delabre has won the international improvisation competition in Lyon, and he was also a finalist at Chartres' international improvisation competition.
His musical activities grow through the organ of the cathedral teaching and giving concerts as well as educational presentations.
The local authorities of Chartres and Lucé have asked him to take in charge their organ and composition classes from autumn 2003 on.
He is giving recitals, playing on famous organs e.g. in St Maximin, Poitiers, St Ouen in Rouen ; in Paris, St Sulpice, St Eustache and Notre-Dame.
Patrick Delabre has travelled a lot for concerts abroad. His recitals in Great Britain, Germany, Belgium, Poland, Czech Republic, USA, Canada and Japan mean a very enriching aesthetic expe-rience to him.
He is also jury member in several international competitions (Chartres, Hamburg, St Blasien).
In Chartres cathedral, he has recorded a CD dedicated to works of J.S. Bach and C. Franck.
The record company Forlane entrusted him with a composition for children's choir and instruments. These fifteen arrangements of popular traditional songs have been performed by the National Music School Children's Choir of Chartres in June 2002.