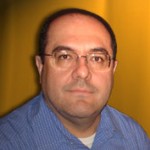 Brazilian organist, born in São Paulo in 1963, José Luis de Aquino initiated his musical career with the study of piano. He started studying organ and graduated as a Bachelor at Santa Marceline College. He went on with his musical studies at the Federal University of Rio de Janeiro where he presented his Master's thesis on Cesar Franck's works for organ.
In Paris. he attended the French organ music interpretation classes ministered by organist Suzanne Chaisemartin.
In 1981, he became the head organist of St. Benedict's Monastery in São Paulo.
He has given ven many organ récitals both in Brazil and abroad, besides his numerous activities as a chamber musicien. He has taken part in several significant international organ festivals in Brazil, Argentine, Uruguay, Chile, The Netherlands, Hungary, France, Italy, Spain, Israel and Germany.
José Luis de Aquino is a Professer at the São Paulo State University Arts Instituts, in charge of the organ department.
He was awarded the "Revelation Prize" by the Pauliste Association Arts Critics in 1986.
He recorded the first compact dise in Brazil of organ music entitled "Passacaglia a Fuga" which includes works by Bach, Liszt, Camin and Reger.
He is the Artistic Director of the Sào Bento International Festival which has been field annually in São Paulo since 1994. The Festival received its first year, the "Grand Critic Prize".