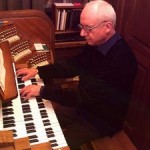 Nicholas Kynaston was born in Devon, England, and was a student of Fernando Germani and Ralph Downes. He was organist at Westminster Cathedral from 1961 to 1971, working since then as a freelance Concert Organist. In 1995, he was appointed organist to the Athens Concert Hall and he joined the teaching staff at the Royal Academy of Music in London in 2002.
Nicholas Kynaston has made more than 30 commercial recordings which reflect his wide repertoire. Recently released is a CD from the Athens Concert Hall (Priory) and a forthcoming CD from the Handel Concert Hall in Halle (IFO). He is the recipient of many awards, including the coveted Deutscher Schallplattenpreis. His Liszt CD from Ingolstadt (Guild) was nominated in Gramophone magazine successively as Editor's Choice, Soundings Choice, and Critics' Choice.
Nicholas Kynaston has been a regular visitor to the USA since his first tour there in 1974. In 2000, he was a Featured Artist at the National Convention of the American Guild of Organists in Seattle and has since played at venues in New York, Washington, and San Diego.
An annual visitor to Germany since 1966, he recently played the inaugural recital for the newly formed Institut Louis Vierne of Saarbrucken. Other notable engagements include a performance of the Bossi Concerto with the Frankfurt Radio Symphony Orchestra and the Poulenc Concerto for the inauguration of the new organ in the Handel Concert Hall. Recent concerts in Northern Europe include the Talinn Festival in Estonia and further south, St Eustache, Paris, the Pontifical Institute in Rome, and the Konzerthaus in Vienna. He plays regularly in Athens, often with orchestra, recently with the Athens Camerata conducted by Sir Neville Marriner.
As well as performing at Westminster Cathedral, this season sees him giving concerts at the Aarhus International Festival in Denmark, the Rheingau Festival, Wiesbaden, the Aachener Bachtage, the Ludlow Festival, Bath Abbey, Gloucester Cathedral, and three performances of the Poulenc Concerto in Greece and Germany.
Nicholas Kynaston is an Honorary Fellow of the Royal College of Organists and a past President of the Incorporated Association of organists. He has acted as consultant for the building of a number of new organs, including Bath Abbey, as well as the restoration of historic organs. He has recently been appointed Curator of the organs at Rugby School, where he was the consultant for the new Chapel organ.