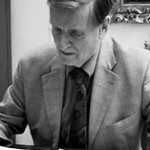 Sir Nicholas Jackson who was Organist and Master of the Choristers at St Davids Cathedral in Wales from 1977-1984 has achieved increasing distinction by the diversity of his activities as an organist, harpsichordist and composer.
He was an Organ Scholar at Wadham College, Oxford and a studied the organ at the Royal Academy of Music with C.H.Trevor and the harpsichord with George Malcolm. He later studied both instruments with Gustav Leonhardt in Amsterdam and had conducting lessons with Sir Adrian Boult.
He made his debut at the Wigmore Hall playing 4 Harpsichord Concertos by Bach with his own Chamber Orchestra The Concertante of London, which made 2 LP records for RC.A and performed frequently with Ncholas Jackson as soloist at London's Queen Elizabeth Hall as well as making annual concert tours of Spain where Ncholas Jackson directed a Music Festival at the Monastery of Santes Creus. On October 19th 2003 The Concertante of London (now a baroque ensemble) will be performing Nicholas Jackson's new edition of Bach's `Musical Offering. From 1979-86 Nicholas Jackson was harpsichordist in the London Virtuosi (soloists of the London Symphony Orchestra) with whom he made frequent tours abroad.
Sir Nicholas Jackson became organist of two of London's best known churches, St James's Piccadilly and at St Lawrence Jewry-next-Guildhall before being appointed organist at St Davids Cathedral and became recognised as one of England's foremost recitalists making regular concert tours of Europe and the U.S.A. He has twice played at Notre Dame, Paris, at Chartres, to an audience of 3000 at the Teatro Real in Madrid and in the Granada Festival. He has given recitals in London at the Royal Festival Hall, the Queen Elizabeth Hall and `Celebrity Recital' at St Paul's Cathedral. In September 2002 gave a series of concerts in Croatia.
He has made over 20 solo recordings both as an organist and a harpsichordist and his most recent CDs include J.S.Bach's-Christmas Organ Music played at New College, Oxford, an anthology of Spanish Organ Music played at Segovia Cathedral and as well as a CD of Bach harpsichord music and another of music by Couperin.
As a composer Nicholas Jackson has written an Opera, The Reluctant Highwayman which vas produced at Broamhill in 1955 and his Mass for a Saints Day was recorded for Decca at Winchester Cathedral. NAXOS have recently released a CD of Nicholas Jackson performing his own organ music at Chartres Cathedral and he has since recorded a another-CD of his music in Paris. A CD of his complete Chorale musicis also planned.
Sir Nickolas Jackson is an Honorary Fellow of Hertford College, Oxford where he is also Hon. Patron of the College Music society and was Master of the Worshipful Company of Drapers in 1994-5 where he founded a series of concerts for young musicians which he continues to organise at Drapers'Hall in the City of London.