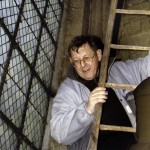 André Isoir, born in Saint-Dizier (France) did his musical studies at the Ecole César Franck where he was the pupil of Edouard Souberbielle, then at the National Superior Conservatory in Paris where he was unanimously awarded the first prize in organ and improvisation in the class of Rolande Falcinelli.
He subsequently was the winner of several international competitions : First Prize at St Albans (England) in 1965, and at Haarlem (Holland) where he was winner for three consecutive years – 1966, 1967, 1968 – thus receiving the "Challenge Prize". He is the only Frenchman to have obtained this honor since the founding of the competition in 1951. André Isoir has made around sixty recordings and won the Grand Prix du Disque in 1972, 1973, 1974, 1975, 1977, 1980, 1989 and 1991 as well as the President of the Republic Prize for his "Livre d'Or de l'Orgue Français". In 1974, he was awarded the composition prize of the Amis de l'Orgue for his "Variations sur un Psaume Huguenot" .
André Isoir rounds off his musical culture with a thorough knowledge of organ-building, which contributes, he says, to a better approach of the different styles and periods from the point of view of both technique and registration.
He plays concerts throughout the world. He also gives many masterclasses and is jury member of the most prestigious international competitions.
Emeritus organist of the Church of Saint-Germain-des-Prés in Paris. Chevalier of the "Ordre National des Arts et Lettres" and the "Ordre National du Mérite", he too has been promoted as better instrumental soloist of the year at the second Victoires de la Musique.