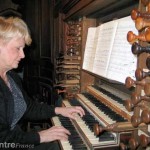 By her numerous recitals, lier tours abroad and her abundant recordings. Michelle Leclerc has become one of the most prominent international organists.
After having finished her studies with Jean Langlais, she received the prize virtuosity at the «Schola Cantorum de Paris». The same year she also won the Charles Tournemire Grand Prix for interpretation and improvisation by the «Association des Amis de l'Orgue de Paris».
Afterwards she went on to study improvisation with Pierre Cochereau.
In 1974 she was a finalist of the International Organ Compétition «Grand Prix de Chartres».
Michelle Leclerc was titular organist at the Cathédral of Sens and the Lutherienne Church des Billettes in Paris.
She gives performances in the most renowned places where the critics are unanimous in their view ofher transcendent virtuosity and personality, her «expressive playing» and her «inborn talent for registration». Apart from her engagement as a teacher at the Schola Cantorum of Pans, Michelle Leclerc devotes herself to the training of organiste at the Académie d'Orgue in Masevaux.
In 1991, she succeeded Yves Devernay as organ professor at the Valenciennes National Conservatory.
Michelle Leclerc died on 12 September 2006.