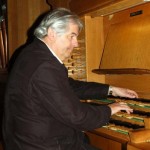 A passionate artist, more attentive to his job at the media coverage of his career, Michel Robert has always been attracted by the diversity in his Art.
Disciple of the masters Vlado Perlemuter, Jaques Coulaud, René Saorgin, Pierre Cochereau, Stéphane Cardon, Pierre Dervaux, he is a pianist, organist, conductor, pedagogue, and his intense activity can be justified by an unquenchable thirst for knowledge, a concern permanent communication for sharing music.
His activity as a soloist, rich to date more than 700 concerts and recitals led him to play and manage in many countries worldwide.
Hosted regularly in major festivals in Paris (Notre-Dame, La Madeleine, Notre-Dame d'Auteuil, St Germain-en-Laye, Auditorium Marcel Dupré in Meudon, etc…), he is the guest of the International Festivals "Saou sings Mozart", Roquevaire, Chartres, St. Donat, Nevers, Nolay, Lausanne, Turin, Ghent, Ottobeuren… Winner of the Concours International d'Improvisation de Lyon, Professor at the Conservatory of Valence, organist of the Cathedral of Autun, Michel Robert is, since December 2006, organist of the Collegiale Church St Peter & St Paul in the city Saint-Donat where he developed an intense artist and educator. He is since March 2012 co-artistic director of the International Bach Festival of St. Donat