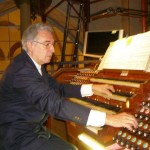 Born July 21, 1936 in Normandy, Étrépagny (Eure), Michel Pinte discovers the organ in the church of his village at the age of 10 years already takes keyboards. But it was during his secondary studies in the Join-Lambert College of Rouen, he is really passionate about this instrument in 1948, at age 12, begins to make up for the organ in the chapel his first teacher, Jules Lambert, also choir organist of the cathedral. He accompanies works sung by the mastery of college, mainly pages of Jules Haelling, former choirmaster of the cathedral of Rouen. Admitted to the Conservatory of that city, he continued his musical training with Marcel Lanquetuit which will have a decisive role in his church musician vocation. In 1956, he left Rouen and after a short stay in education, it is called up and sent to Algeria. The organist of St. Philip's Cathedral Algiers is vacant and, although military, he was appointed to the great organ Merklin and Kuhn (25 stops). It will be the last titular of the instrument before decolonization.
Back in Paris after the end of the war in Algeria (July 1962), Michel Pinte resumed his musical studies with Irene Baume-Psichari (piano), Yves Margat (writing), a former student of Gabriel Fauré, and Henri Pumpkin (Gregorian chant), choirmaster of the Sacred Heart of Montmartre and professor at the Gregorian Institute. At the Schola Cantorum, it also follows organ classes of Jean Langlais and in 1964 he obtained his degree in performance virtuosity and improvisation (jury chaired by André Marchal). At that time, in 1963 he was the deputy of Jeanne Baud-Cayron at the organ in the chapel of the Sacred Heart of the City University (Boulevard Jourdan), and from 1963 to 1965 the deputy of Raphael Tambyeff at Notre Dame de Grâce-of-Passy (street of the Annunciation). After two years at the organ in the choir of St. Louis Cathedral in Versailles, where he succeeded in 1964 to Geneviève Lesecq, he becomes the following year alternate of Pierre Delpit, choir organist at St. Augustin's Church in Paris. In 1968, at the start of it to take the organ of Our Lady of the Rosary, he naturally follows it and is tenured. Ten years later (1979), he was appointed assistant of Suzanne Chaisemartin (1868 Barker / Cavaillé-Coll-Mutin, 3 manuals and pedals, 53 games) of the same church, and in 1990 co-titular.
The relatively important choir organ Cavaillé-Coll-Mutin (1899) of St. Augustin, that Michel Pinte plays for three decades, enabling it to "play most of the directory that it is available, at least according to criteria defined by Vierne in the preface of his fantasies Parts ("orgue moyen de deux claviers") and the person wrote us himself in 1988, adding these few details : "the one who is at my disposal has 32 records 2 keyboards and adding six adjustable combinations gives it a comfort and considerable autonomy for casual and common masses ; redone by Gonzalez there are more than 10 years [1973], reviewed by Dargassies there is little time, it is entirely satisfactory. "At his retirement in June 1997, his position was abolished and its functions performed by the two new co-owners of the great organ, Didier Marty and Christophe Martin-Maeder appointed (September 1997) after his departure and that of Suzanne Chaisemartin (August 1997), also part of a retreat.
His virtuosity degree and upgrading courses followed later (1974) with Marie-Madeleine Duruflé-Chevalier, Marie-Louise Girod and finally Suzanne Chaisemartin especially for improvisation, allowing Michel Pint build a career of concert organist "for his personal work and pleasure", along with its liturgical organist at St. Augustin. Thus he gives concerts in the provinces, particularly in Marseille, Angoulême, Reims, Rouen, Antibes, Autun … but, judging himself as "the musical career especially being in France fully saturated or difficult," it is abroad that most often occurs mainly in the US : New York, Chicago, Washington, Boston, Detroit, San Francisco, Minneapolis, Rochester, Salt Lake City… Cultivating preferably a romantic repertoire, symphonic and modern, without neglecting the essential pages of the classical repertoire, he knows skillfully concluded his recitals by improvisation always get a great success : in 1986, in Saint-Maclou of Rouen, "on a topic given by Pierre Labric Michel Pinte performs improvisational style of an open, bright, a kind of Prokofiev for "Chevauchée Fantastique" as a war of the stars in the maelstrom of the tundra… Some incredible images, in-depth show "(RB). A year earlier at a concert on July 3 at the organ of the National City Christian Church in Washington DC, H. Stein-Schneider reports in the newspaper France America : "improvisation on a theme of Duruflé -whose very recent death was announced during a brief Introduction- continued this rapid pulsation and the brilliance of Joan Demessieux [Te Deum], with the addition, poetic and quieter than the previous modes fireworks. Imagination creative Pinte, still under the influence of the great virtuoso, carried the audience to a spiritual joy, perfectly appropriate for a sanctuary filled with the sounds of the royal instrument of the highest qualityé. The following year, performing again in this city, but this time at St John's Church, the Church of the Presidents, the same journalist wrote "Michel Pinte ended the recital with variations on a theme, which was in this case America the beautiful tribute to these Americans. Boasting a little at the theme in a five-part invention, Michel Pinte we revealed the power in a dazzling final". And the daily The News of 11 August 1987 to write, in the account of his recital at the castle of Lessay (Côtes d'Or) on an Allen three-manual organ pedals and radiant "evening Stud : the final improvisation on a theme given by Mr. Gérard de la Hausse. Given the personality of the director of Mauritius Music School, it was expected to Salve Regina. It's Cadet Roussel who left ! […] It was the beginning of a beautiful riot of creativity and technique. The beginning showed some of the influence of Paul Dukas Sorcerer's Apprentice who was the master of Jean Langlais, himself a great orchestrator, with which Michel Pinte worked at the Schola Cantorum. This could explain it… Work lace around the central theme, widespread use of the full range of games, improvisation went crescendo of difficulty and the volume up become something huge and grandiose in the sublime. The witness of perfect ease and happiness of an artist accumulating pleasure technical difficulties and harmonic subtleties with mastery… necessarily evil ! Supreme relaxation of an artist who ends his performance by applauding the organ : touch of humor which Pint never departed. Indicative of a bias for freedom that ignores school quarrels (choice of the organ, touch, etc …) Pinte unethical ? May be ! To our delight to all" (Corinne Dauron).
In 1997, Michel Pinte settles in Spain, in Marbella (Malaga) and although retired continues its concert organist career. If the USA, Germany, Italy and Malta welcome him for a few concerts, as well as France (July 22, 2003 : tribute to Eugene Gigout at the Cathedral of Bourges, October 14, 2006 : 10th Festival Toulouse the Organs, works Bach at the St Sernin Basilica, October 15, 2006 : St-Nicolas-du-Chardonnet in Paris…), it is mainly in Spain we see it happen, especially in 1999 at the International Organ Week Granada, the following year at the Madrid in 2004 at the Festival of Leon (the Baneza) in 2005 at the Cathedral of Malaga and the year after that of Barcelona. In 2007, he played at the Palace of Music Valencia, the Basilica of San Juan de Dios de Granada, the Cathedral and the Church of El Salvador in the same city, as well as Latvia's Cathedral Riga. In 2008 he gave a concert on February 29 in Marbella (Iglesia de la Encarnacion) with works by Boëly (Fantasy and Fugue in E-flat), JL Krebs (Trio on choral "Mein Gott ich das Herze bring-dir"), G. Aries (Toccata 1912), Flor Peeters (Choral trio "How lovely shines the morning star"), Guilmant (Sonata No. 3 in C minor, op. 56), Widor (Pastoral Symphony 2nd, op. 13, No. 2), AG Ritter (Sonata No. 3 in A minor, op. 24) and in the end, an improvisation. Its ultimate recital was held on March 18 in Santa Maria Cathedral of Caceres with this program : Prelude No. 2 in G minor Handel Trio BWV 585 and Fugue in G minor BWV 542 by J. S. Bach, Praeludium 20th Sonata, op . 196 J. Rheinberger, Attende Domine 3 (12 Chorales Preludes, Op. 8) Jeanne Demessieux, Toccata 1912 G. Aries, Sonata No. 3, Op. 56, Guilmant, Final of the 6th Symphony, op. 42, Widor and an improvisation on a Marian theme. Since 2005, he accompanied the Mass every Saturday evening on a digital organ Johannus 3 keyboards, the Nuestra del Carmen Church of Estepona, which had led to his being named "honorary organist" by the pastor of the parish.
Vermeil Medal of the City of Paris, Silver Medal of Merit Diocesan Michel Pinte died in his seventy-third year and was buried October 28, 2008 in the small cemetery of Doudeauville-en-Vexin (Eure) located not far from Étrépagny.
Denis Havard de la Montagne
www.musimem.com
(With his permission)