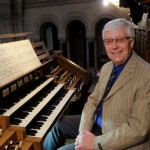 Born in Bordeaux in 1943, Michel Estellet-Brun studied the organ at the Schola Cantorum in Paris, and then undertook further study with Gaston Litaize and Pierre Cochereau. His appointments include Beauvais Cathedral, the Abbey of Royaumont, and the churches of Notre Dame de la Croix, St Georges and St Joseph des Nations in Paris. His discography includes a recording of organ music by the Czech Josef Klicka, on the Alpha label: bringing the work of this unjustly neglected composer to public attention has been a substantial element in his career.
His compositions include the oratorio La Passion à Menilmontant as well as much solo organ music, some of which is published by Fagus in Scotland. He is currently working on a series of compositions inspired by Paul Claudel's poems on the Stations of the Cross. Michel is a frequent visitor to England and has played at Salisbury Cathedral (where he improvised a 44-minute Symphonic Suite in four movements before an enthralled audience of young organists), Westminster Abbey, St. Paul's Cathedral and, most recently, at Westminster Cathedral, where he played a set of improvisations during a Sunday evening Mass. He has also played in Germany and the Czech Republic, where he gave the final concert of the Organ Festival of Eastern Europe in the Basilica of Olomouc, as well in his native France.
In 2006, Michel was decorated by the Cardinal Archbishop of Paris, receiving the Gold Medal of St Gregory for his outstanding services to church music over nearly forty years.