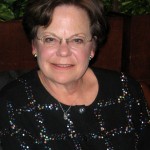 Lynn Zeigler holds an organ performance degree from the Oberlin Conservatory of Music where she was a student of David Boe and Fenner Douglass. Ms. Zeigler holds the Masters of Music degree from Northwestern University where she studied with Grigg Fountain. After two years of study with organist Lionel Rogg at the Conservatory of Music in Geneva, Switzerland, Ms. Zeigler was awarded the Premier Prix de Virtuosité, the highest performance degree given in Europe. Lynn Zeigler has attended master classes with several noted organists : Werner Jacob, Luigi Tagliavini, Flor Peeters, and Harald Vogel.
Lynn Zeigler has won several first prizes in European organ competitions and makes concert tours throughout Europe, including The Netherlands, Belgium, Germany, France, Switzerland, Finland, Denmark, and Norway. She has performed on three separate occasions in Honolulu and Maui, Hawaii. Lynn Zeigler has appeared on Eurovision (European television) and has made numerous recordings for Dutch, Swiss, Danish and Norwegian radios. She is heard on American radio and on Minnesota Public Radios's well known "Pipedreams". She gives concerts, workshops and master classes throughout the United States and Europe and server as an adjudicator for organ competitions.
Lynn Zeigler recorded eleven organ and harpsichord pieces for a music history textbook, The Development of Western Music, A History by K Marie Stolba. She has recorded for Raven Records, Organ Historical Society, organ music of various periods and styles on the 1987 organ of John Brombaugh at Iowa State University. She has also recorded the complete organ version of J. S. Bach's Art of Fugue, a double compact disc and has recorded a compact disc of organ pieces from the twentieth century American composers.
As a Professor of Music at Iowa State University, Lynn Zeigler teaches organ, harpsichord and music theory. She plays continuo in Basically Baroque, a quartet with Baroque oboe, flute and gamba. She also plays continuo in The Lyremar Trio which includes Baroque flute and gamba. The Lyremar Trio has recorded sonatas of Marcello for CD. Lynn Zeigler organizes two guest organ recitals and a weekly organ recital series at Iowa State each year. She is also organist at the Collegiate Presbyterian Church in Ames.
Lynn Zeigler has devoted much of her research to writing a book on the organ and musicianship geared to informing the non-trained church organist.
She received the 1998 Liberal Arts and Sciences Award for Excellence in Research and Creative Activity from Iowa State University.