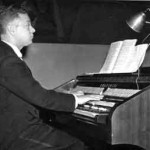 Hector Zeoli began his musical studies in Rosario, his hometown, with professors Manuel Cuevas (piano), Ricardo Engelbrecht (harmony) and Franz Mülemkaft (organ).
At 18, he was appointed to the Cathedral of Rosario, giving recitals for LT8 Radio Littoral.
Fellow of the Foundation Santamaria, he traveled to Buenos Aires in 1944 and then to the United States in 1947 to continue his training. There, he studied conducting with Rudolf Thomas (Columbia University), winning a scholarship from the Julliard School of Music in New York. Finalist in the International Competition of Organists (Texas, 1949), and in 1954 graduated from the Julliard School of Music, he returned to his country where he was appointed by competition, organist and choir director of the National College of Buenos Aires.
Hector Zeoli is the coordinator of the International Organ Days organized by the Cultural Department of the University of Buenos Aires, and member of the Board of Directors of the Cultural Foundation Promusica.
Since 1958 he was organist of the Basilica of Santo Domingo, Buenos Aires participating in the selection of the new organ registers installed in 1964. In 1979, with the organ builder the National College of Buenos Aires, Ing. Merlassino, he planned the restoration of the great organ of that institution.
Hector Zeoli was the first Latin American guest organist at bi-annual meeting organized by the American Guild of Organist in Los Angeles in 1962, where he played premiered his Sonata for Organ.
His recordings stand a disc dedicated to the works of J. S. Bach, as well as tapes of his improvisations and his works of biblical inspiration ("La Ciudad del Manana", "El Nacimiento de Jesus", "Oratorio de Pascua" , etc…).
Hector Zeoli pursues an international concert career, making many tours in Latin American and European countries.