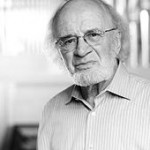 Ludwig DOERR studied at conservatories in Cologne and Stuttgart with Anton Nowakowski and Karl Marx. ">In 1950 he won the International Bach Competition in Leipzig, Bach Prize.
In 1952, Doerr was organist at Speyer; At the same time, he teaches organ at the Episcopal Church Music Institute of Speyer and the College of Education in Landau.

">From 1971 until his retirement in 1990 he was professor of organ at the Staatliche Hochschule für Musik in Freiburg and also worked as an organist at the Cathedral of Freiburg.

He gained notoriety as an improviser. His organ class has produced several renowned organists, including Leo Krämer, John Roller, Christoph Schoener, Joachim Krause and Hannfried Lucke. 1993 Ludwig Doerr was awarded the Prize for Culture of the Upper Rhine.