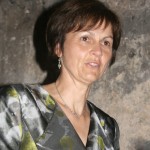 Liesbeth Schlumberger-Kurpershoek commenced her organ studies white still at school by travelling fortnightly from Vryheid, Northern Natal to Parktown, Johannesburg for lessons with the late Prof Stephanus Zondagh. This doyen of South African organ teachers taught for many years at of the University of Pretoria from where Liesbeth subsequently graduated.
In 1985 she won both the SABC Music Prize and the UNISA Overseas Study Bursary which enabled her to go to France in 1987 to Study organ under Marie-Claire Alain at the Conservatoire National de Rueil-Mailmaison and harpsichord with Huguette Dreyfuss.
Later she furthered her organ studies under Jean Boyer at the Conservatoire National de Région in Lille and improvisation with Jean Langlais. ln 1989 she won first prize in the International Organ Competition held in Bordeaux.
In 1994, Liesbeth was appointed Organist of the Reformed Church of Étoile in Paris, a two minute walk from the Arc de Triomf where she plays a superb Cavaillé-Coll organ that is wonderfully suited to the repertoire of French Organ Music of the 19th and 20th century. At the church she organises a concert series entitled "Sunday Music" at which some of the finest musicians in Europe perform.
In 1996 Liesbeth Schlumberger was appointed assistant to Jean Boyer at the Conservatoire National Supérieur de Musique in Lyon, France. This legendary teacher died in 2004 at the young age of 56. Since 2005 Liesbeth Schlumberger and Francois Espinasse have carried forward his legacy in Lyon. In addition, she is an active recitalist and frequently conducts masterclasses.
In 2010 she will be an adjudicator at the Chartres International Organ Competition, one of the most prestigious of its kind in the world of the organ.