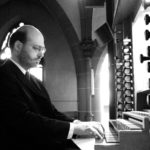 Christian SCHMITT-ENGELSTADT, born in 1967 in Ingelheim a. Rhin, is a cantor and organist at the Lutherkirche Worms.
From 2001 to 2010, he was a lecturer for the Musikhochschulen Mainz and Frankfurt / Main orchestras.
He has won several awards at international competitions: Carouge organ competition (Geneva) 1992 / 1st prize and special prize of the International Nuremberg Organ Week (ION) (Johann Pachelbel prize) 1994 / 1st prize of the competition Organ Competition Gelsenkirchen 1996 / 2nd Prize Competition Buxtehude Toulouse 1991 / 3rd Prize Int. Odense Organ Competition (Denmark) 1992 / Freiburg Musikhochschule Prize 1994 / Finalist at the Berlin Mendelssohn Competition 1995.
He has been the guest of many concert series: Cathedral of Chartres – Leon Cathedral (Spain) – Cathedral of Mexico – International Nuremberg Organ Week – Summer Concerts Cathedral of Constance – European Church Music Schwäbisch Gmünd – Music of St. Blasier Spring – Lisbon Cathedral – Riga Cathedral – Church of the City of Winterthur – Kaiser St. Wilhelm Berlin – Meldorfer Dom – Dom Limburg – Bonner Münster – Dom Fulda – Abbey Amorbach – Concerts Nieder-Mooser Organ – Steinfeld Abbey – Dom Aachen – Music Summer Obermain – Antoniterkirche Cologne – Grauhof Monastery Church Goslar – St. Lorenz Nuremberg – St. Crucis – Erfurt Church – Summer Music Ostfriesischer – Saints Peter and Paul Görlitz – Divi Blasii Mühlhausen – Memorial Church from Speyer.
Radio recordings were made at SWF, BR and Radio Suisse Romande. He also recorded several CDs.